Zhiyang Machinery
15161130178
0519-88674267/88674627
czzy2015@vip.163.com
No. 113 Huanzhen Road
Search The Product
Focus on life, Focus on medicine
Products
Overview:
● In solid-liquid coexisting dispersions that are mainly caustic, use the self-adhesive 9 of the dispersion or an additional adhesive) to make the solids by force (such as extrusion, gravity, centrifugal force, mechanical force, air force) The basic particles of the powder adhere to each other, increase, and form a particle group with uniform shape and granularity. Wet granulation equipment is mainly composed of mixing (kneading), granulation, drying and auxiliary system equipment. After the powder is mixed (kneaded), it enters the granulator to form a wet product with the required particle size, and is dried to obtain a granular finished product, thereby achieving the purpose of granulation.
● SET series twin-screw extrusion granulators are divided into front discharge type and side discharge type. The diameter of the front discharge type is generally between 1.5-12mm, and the diameter of the side discharge type is generally between 0.7-2.0mm. Choose between, the shape of the particles is cylindrical, and the granulation rate is ≥95%
Application:
● This equipment is widely used in the spherical granulation of pharmaceutical, food, chemical and other industrial fields. Especially in the field of medicine, it is an effective tool for controlled-release and sustained-release pellet preparations, which can provide equipment guarantee for the development of new varieties.
★ Features:
● The feeding hopper, screw feeder, extruder, and orifice plate of the extruder are easy to disassemble and easy to clean.
● The screw structure enables the material to be squeezed by the forward thrust of the rotating screw. The extrusion is uniform, so the molding rate is high, and the finished product is dense. The continuous operation has high production efficiency. It can supply pellets for multiple rounding machines at the same time.
● Screens with multiple apertures are provided for easy adjustment to obtain extrudate with different diameters.
● Adopting variable frequency speed regulation, the speed can be adjusted within a certain range to meet the different requirements of different materials for the speed, and the extrusion speed can be adjusted in real time to achieve the best extrusion effect. Wider variety selection.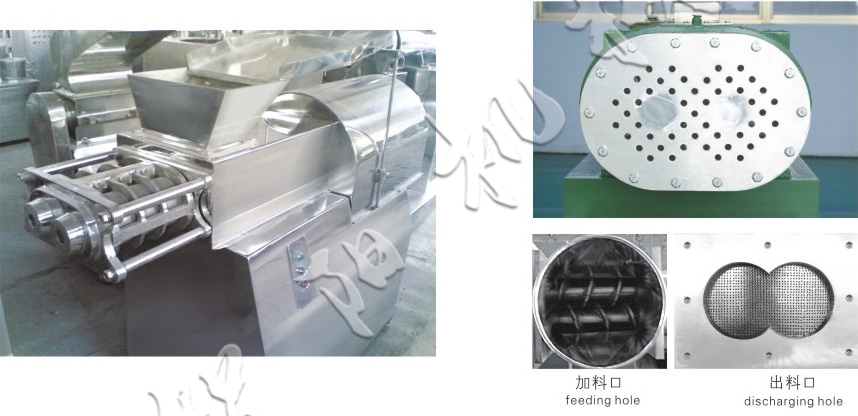 | | | | | | |
| --- | --- | --- | --- | --- | --- |
| Model | Screw Diameter(φ) | Dimensions L*D*H(MM) | Motor Power(kw) | Rotating Speed(rpm) | Equipment Weight(kg) |
| SET-100 | 100 | 2000*500*1000 | 7.5 | 11-110 | 810 |
| SET-140 | 140 | 1920*800*1430 | 15 | 11-110 | 810 |
| SET-180 | 180 | 3000*870*880 | 22 | 11-110 | 810 |
All data are for reference only, depending on the material, the company has the right to change without notice